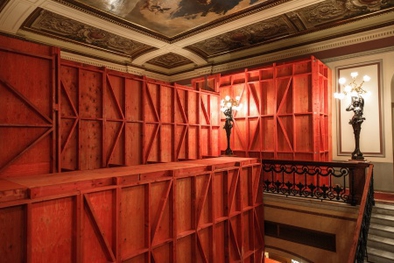 Plywood Theatre. Contemporary Art Programme at the Bolshoi Drama Theatre.
November 24 – December 29, 2019

The Plywood Theatre: Contemporary Art Programme at the BDT (Bolshoi Drama Theatre) is a project that completes the celebration of the Bolshoi Drama Theatre's 100th anniversary. The project is held in collaboration with the St Petersburg PRO ARTE Foundation, which celebrates its 20th anniversary this year.

The Plywood Theatre is a conceptual architectural object created for the BDT's 100th anniversary (by artist Alexander Shishkin-Hokusai, theatre director Andrei Moguchiy, architect Andrei Voronov). The plywood construction invades the 19th century classical theatre and transfers the viewer back to 1919. The authors dedicate the architectural installation to Alexander Blok, BDT's first artistic director, and outstanding artists who worked in the theatre in the 1920s and 30s. The Plywood Theatre is an installation set in BDT's main building, which functions as a real theatre and has its own stage as well as an auditorium for 30 seats. In October 2019, the BDT Plywood Theatre received the ARCHIWOOD Award in the Art Object nomination as the best wooden architectural structure.
Andrei Moguchy, Artistic Director of the Bolshoi Drama Theater:
«Today, the theatre enters museums, this is a trend. In our case, it is vice versa: the installation, essentially a museum object, a contemporary art object, enters the theatre. We came up with the Plywood Theatre, on the one hand, as a gesture, a metaphor for renewal, rebirth of the theatre, on the other hand, we see it as a powerful sign, a metaphor for art. Art that always breaks boundaries, provides a new, paradoxical perspective on life.
The Plywood Theatre. The Contemporary Art Programme at the BDT is a project we created together with the PRO ARTE Foundation. I think this is just the beginning of our long-term collaboration.»

Elena Kolovskaya, Director of the PRO ARTE Foundation:
«Plywood Theatre is a unique space that inspires experimentation: the musical sculpture by Boris Filanovsky will fill it with sound and it will host Bill Viola's works shown on the big screen, which is an extremely rare experience.»